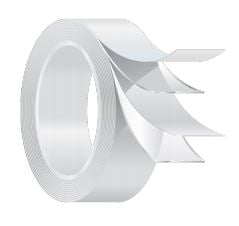 Are you looking for a general-purpose mounting and bonding rubber adhesive with a heavy-duty release liner that provides high tack and is easy to peel?
Mactac IB1175XTL is a double-coated rubber adhesive with PET carrier designed for general purpose bonding to non-plasticized foams, gasketing materials, and other common substrates. This popular adhesive system offers a 12pt. PE coated board liner, which provides higher tensile strength than standard PCK liners. The thicker gauge reduces costly material web breakages while offering die cutters more forgiveness when kiss-cutting parts. End users will also appreciate the improved peel performance when removing their parts from the 12PT liner surface.
Request your sample of Mactac IB1175XTL today!