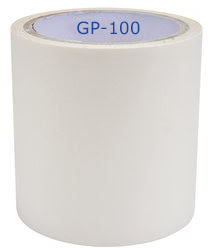 GP-100 is a privately branded, acrylic-based pressure-sensitive adhesive from Worldwide Foam. This general-purpose product consists of a 0.5mil mylar carrier, coated on both sides with 1.5mil of acrylic adhesive. GP-100 uses a 74# densified kraft release liner, which provides added dimensional stability and improved handling during lamination or die-cutting, particularly on thin or flexible substrates.
We offer GP-100 in both 54" wide and 60" wide rolls, with each roll containing 750 feet total. This adhesive offers a great cost-to-performance ratio and is ideal for general-purpose packaging and precision gasket applications. Customers have the option to order the adhesive applied to foam sheets or continuous rolls. We can convert adhesive rolls to custom widths and lengths in our Elkhart, IN facility
We recently updated our PSA selection tool on our website. It is a great tool that helps you to identify the right PSA for the job. Please visit our website for more details.